Gypsum board production line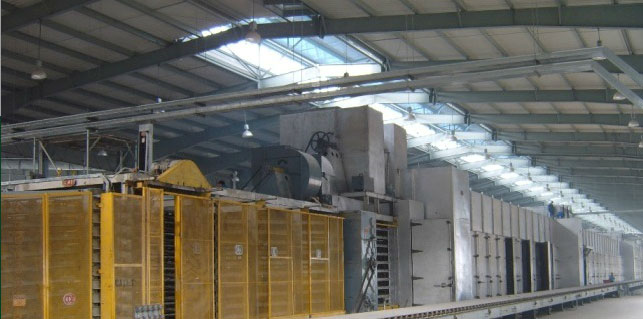 Gypsum board is widely used for internal walls and ceilings by the construction industry. It is made of a non-combustible core, primarily of gypsum, with a paper facing on the face, back and along edges. Gypsum board offers a number of outstanding advantages: fire resistance, sound attenuation, durability, economy, versatility among others.
The use of RGT gypsum board machines could yield significant improvements in product performance, user convenience and process efficiency. It offers a great deal of advantages, including:
High level of automation and great productivity
Increasing the mechanical strength of final product
Improving paper and gypsum bonding capacity
Developing a harder board edge
Accelerating curing rate
Decreasing the board weight
The manufacturing process of gypsum board mainly consists of four parts:
Material batching
Raw gypsum must be pulverized and calcined first. The semihydrate gypsum then are batched with certain amount of water and addictives, such as starch, accelerant, foaming agent, and are conveyed to a pin mixer at the head of the board forming line.
Board moulding
The slurry produced in the pin mixer is conveyed and spreaded between two paper sheets that serve as a mould. The edge of the papers are scored and chamfered if necessary, to allow precise folding of the paper to form the edges of the board.
Board drying
The wet gypsum board exiting from the moulding section is conveyed to drier. As the wet board travels the length of a conveying line, the calcium sulfate hemihydrate combines with the water in the slurry to recrystallise or rehydrate, reverting to its original rock state to give a rigid board. The board then enters a multideck kiln dryer, where it is dried by direct contact with hot combustion gases or by indirect steam heating to remove any free moisture.
Sawing and trimming
The dried board then is conveyed and sent to the board end sawing area and is trimmed and bundled for shipment.
| | |
| --- | --- |
| Item | Parameter |
| Production Capacity, m2 /a | 2 – 50 million |
| Product Specification, mm3 | L1800 – 3600, W900 or 1200, T9.5 – 25 |
| Product Variety | Common, fire resistant and water resistant |
| Fuel Variety | Coal, fuel oil or natural gas |
| Product Standard | In compliance with National Standard |