Automatic lightweight wall panel production line
Automatic lightweight wall panel production line flow chart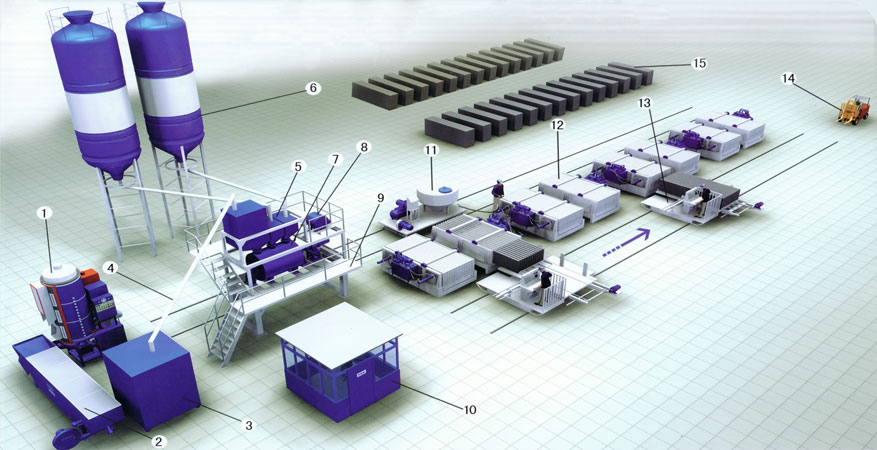 EPS Pre-expander
Fluidized Bed
EPS Silo
Screw Conveyer
Aggregate Measure Bunker
Silo
Mixer
Steep Making Machine
Mixing Platform
Control Room
Container for Infusing Slurry
Hydraulic Molding Machine
Moving Automatic Stacker
Forklift
Storage Yard
Compound heat preserving lightweight wall panel
Lightweight wall panel is a non load-bearing compound panel , which is made by light weight concrete and covered by fiber cement board or calcium silicate board on the surfaces.
Compared with other wall materials, it has advantages of solid, lightweight, thin-layer, high strength, impact resistance, strong hanging strength, heat insulation, sound insulation, higher fireproof, easy decoration and environmental protection. Furthermore, it can be easy cut and made channels according to construction need. The product can be applied as unload-bearing wall in various categories of building. It can also be adopted as sound-proof wall and fire-proof wall.
The product has got a high popularity among the construction contractors and real estate traders since it promoted to the market. First, the high satisfaction of products quality. Second, it reduces the total construction area of the wall so as to raises the utility area( it can increase 4.26 m2 of workable area per 100 m2). Third, it reduces the structure load and improves the seismic safety of the building performance. Fourth, it reduces total building cost. It makes a new breakthrough in reformation of building material which will bring you a tidy profits with such project!
In order to answers the call of national wall reform policy, keeping up with the market demands, we develops the compound lightweight wall panel making equipment. The automation and stable performance of machine wins all praise from domestic and foreign customers.

Performance of Wall Panel
Superior waterproofing performance
Better anti-bending breaking load
Low thermal conductivity
Simple & firm installation
Firm joint structure of male and female channel
Simple box imbedding, pipe and pipeline installation
Better anti-impact capacity
Lightweight Aggregate Mixer
Technical Parameter of Mixer
Type
with lift port
without lift port
Charging Volume (L)
1600
Discharging Volume (L)
1000
Max. grain Size of Aggregate (mm)
5
Speed of Mixing Blade (r/min)
27.4
Mixing Blade (PCS)
4
Model of Mixing Motor
XWD11-7-160-6 (pole)
Power of Mixing Motor (kW)
11
Model of Winch
500.3
- - - - - - - - - -
Power of Winch (kW)
4.5 kW / i=20.27
- - - - - - - - - -
Height of Unloading Material (mm)
1500
Model of Water Pump Motor
3 phase self-sucking pump
Power of Water Pump Motor
0.75 kW + 1.1 kW
Frame Dimension in Working Condition (mm)
3900 x 4728 x 4382
3900 x 1550 x 5750
Frame Dimension in Transportation Condition (mm)
3900 x 2560 x 2564
3900 x 1550 x 2436
Net Weight (T)
5.5
5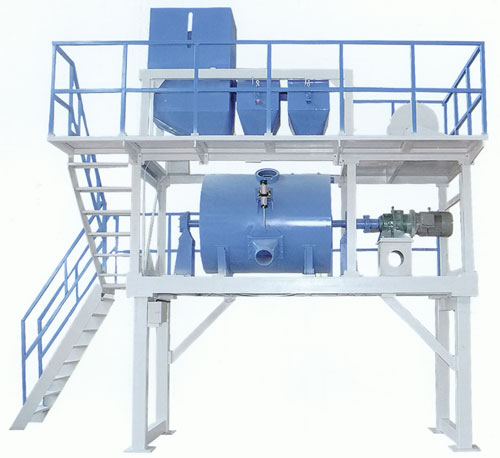 Technical Parameter of Mobile Automatic Stacker
Function
Pulling panel out off wall panel molding machine, collecting wall panel together, turning over wall panel with 90°, and taking wall panels to the suitable place then translate to curing room with forklift.
Motor
Power
Hydraulic unit motor
4 kW
Traveling motor
XWD3-4-47 3 kW
Demoulding Device
XWD1.1-3-59-4 1.1 kW
Cylinder
Travel
Wall panel pushing device
980 mm
Turnover cylinder
650 mm
Capacity
/ set
75 mm (thickness)
12 (pcs)
90 mm (thickness)
10 (pcs)
100 mm (thickness)
9 (pcs)
150 mm (thickness)
7 (pcs)
200 mm (thickness)
5 (pcs)
Frame
4350 x 3612 x 1150 mm
Component
Hydraulic unit motor, Turnover cylinder, Demoulding Device, Wall panel pushing device, traveling motor, Electric control cabinet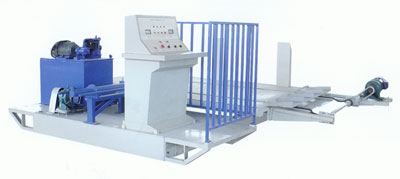 Wall Panel Molding Machine
Function
Molding system
Charging
Volume
1.7 m3
Finished Wall
Panel Dimension
3000 x 600 x 75 / 90 / 100 / 150 / 200 mm
Output of Wall Panel
with Different Thickness
75 mm
12 (pcs)
90 mm
10 (pcs)
100 mm
9 (pcs)
150 mm
7 (pcs)
200 mm
5 (pcs)
Hydraulic unit
Motor power
2.2 kW
Piston Diameter
Ø 80 mm
Operating Stroke
400 mm
Operating Pressure
3-4 Mpa
Molding Time
2 hours (High aluminium cement)
Net Weight
5T
Component
Host machine, hydraulic unit, mould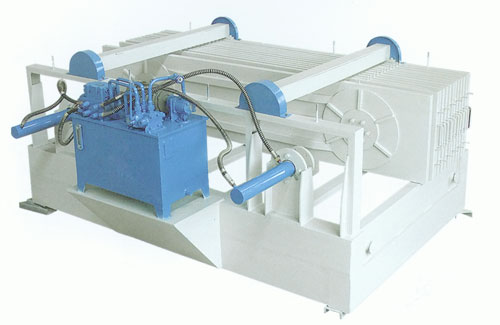 Container for Infusing Slurry
Technical Parameter of Slurry Pump
Function
Transferring the material and inject material into wall panel molding machine under high pressure
Infusing Volume
1 m3
Working Pressure
0.4 MPa
Motor Power
Traveling Motor
1.1 kW
Air Compresor Motor
3 kW
Frame Dimension
2755 x 1200 x 1665
Component
Slurry container, rail, Air compressor, Pipe