Sandwich Panel Production Line (PU/PIR/Rock Wool/Glass Wool)
Sandwich Panel production line flow chart

Hydraulic decoiler
Plastic film coating device
Roll forming machine
Conveyer
Raise device
Slitting machine
Automatic feeding system
Preheating room
High pressure pu foaming machine
Double belt press machine
Saw cutter
Cooler for pu sandwich panel
Turn over device
Auto stacking
Wrapping machine
Sandwich Panel Production Line Process Flow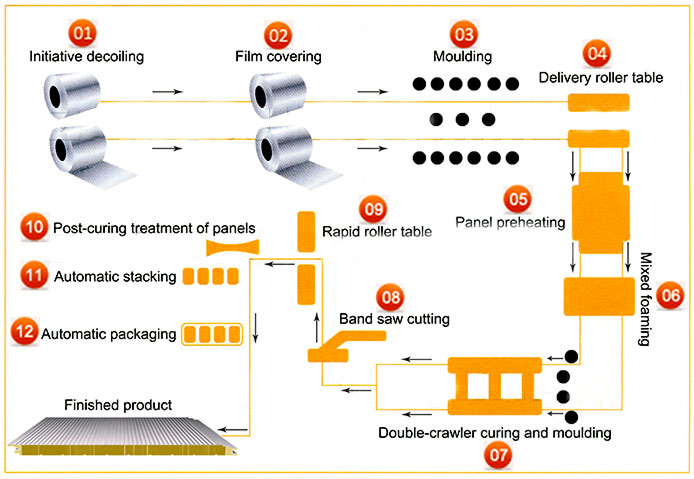 Sandwich Panel Production Line from the discharge, forming, cutting after forming composition, the products look beautiful smooth paint pattern uniform, high strength, durable, widely used in industrial and civil buildings, such as factories, warehouses, machine garages, hangars, gymnasium, exhibition halls, theaters and other room surfaces and walls. Its components include: machine, PLC computer control system, hydraulic pump station system, automatic cutting system after Features: The device uses a high level of color steel automatic control software, production information management.
Color steel equipment PLC control system features:
A simple operation of the control system, the normal automatic production do not need to go backwards, but a forward-pressure cutting is completed.
High accuracy, precision cut each slice is less than 0.1mm, meet the technical requirements.
The program is stable and reliable.